We can't speak for all Kunkle 218s, but we can account for quite a few of them because they are in our warehouse, ready to ship. Shhhh, don't tell the other distributors.
When your customers need a Kunkle liquid relief valve, model 218, you can be their source. That's a hero moment for you since not all distributors stock them and the manufacturer's lead time is running 6 to 8 weeks out.
What's so Special About This Valve?
Generally, Kunkle's model 218 is used in fire suppression systems and for anything that has a motor-operated fire pump to protect against dead heading. Liquid relief valves are suitable for overpressure relief, pressure regulation and protection of pumps, tanks, lines and hydraulic systems.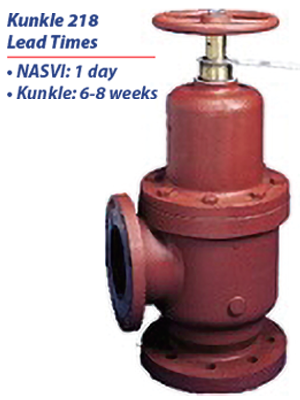 This relief valve has a bronze trim, and its special design offers minimum set pressure of 60 psig. The handwheel ensures easy adjustment to 200 psig (13.8 barg), 175 psig (12.1 barg) with an optional 125# inlet flange.
Features:
Quality cast iron body and bonnet with bronze trim
Available with optional stainless steel insert and disc
Spring is steel with plating for corrosion protection
High-lift, wing-guided disc offers high relieving capacity

Service:
Pressure regulation
UL 1478 listed
FM approved for fire pump installations

Kunkle 218 Lead Times:
NASVI: 1 day
Kunkle: 6-8 weeks