Bronze, steel and stainless steel safety relief valves for air, gas, steam, liquid and vacuum service that meet ASME Section VIII, 'UV'; Section I, 'V', are National Board certified and PED certified for non-hazardous gas. Of course, we have them in stock.
Kunkle Series 900 valves are suitable for air/gas compressors, liquid filled pressure vessels/systems, high temperature/pressure hot water boilers, for pressure vessels containing air, gas or steam and process and industrial applications requiring steel/stainless steel construction, as well as for vacuum service.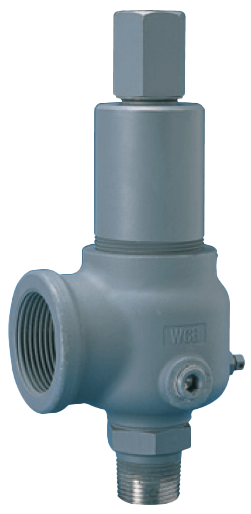 Features
Heavy duty cast valve bodies
Seats lapped to optical flatness
Available with resilient soft seats for superior leak-free performance
Standard SS spring for temperatures to 550°F (288°C) and optional alloy spring to 800°F (427°C)
Threaded cap standard (back pressure tight) and maximum back pressure 50 psig [3.4 barg]
Hex on valve nozzle provides for easy installation
Warn ring offers easy adjustability
Pivoting disc design offers exceptional seat alignment
Guide to nozzle ratio reduces friction
Full nozzle design for optimum flow performance
Threaded side outlet for piped off discharge to eliminate fugitive emissions
Each valve tested and inspected for pressure setting and leakage
Did you know Erastus B. Kunkle invented the safety valve to prevent overpressure in locomotive engines? Kunkle patented it in 1875. Since that time, Kunkle has earned its reputation for high-quality valves, and other equipment manufacturers ship their products with Kunkle's valves pre-installed.
NASVI has stocked Kunkle safety relief valves since the 1990's, so we are confident when we call ourselves Kunkle safety valve experts.