Kory Rash, NASVI Machinist
By chance, do you remember the news of the nuclear-powered Los Angeles class Attack Submarine, USS Newport News, hitting a Japanese supertanker in the Persian Gulf's Strait of Hormuz on January 8, 2007?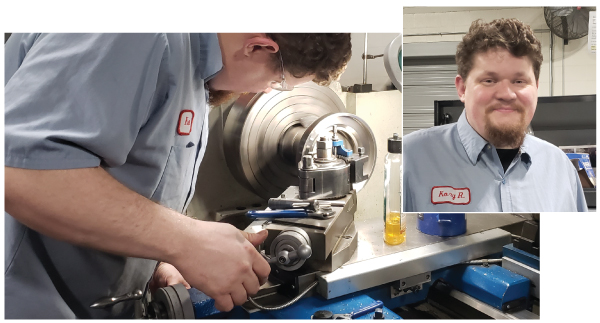 Kory Rash is a self-described Navy brat, born in Seattle and lived all over. Following in his dad's footsteps, he served in the US Navy, and was on that submarine at the time. There were no serious injuries or oil or nuclear fuel spills reported, but being "sucked up into an oil supertanker's propellers" was enough to convince Kory not to extend his six-year enlistment as a submarine engineering laboratory technician (ELT). We suppose you could say he is used to working "under pressure."
After he was discharged in 2007, Kory eventually went to college, attending MCC Maple Woods and then University of Missouri-Kansas City. He met his wife in MCC's math tutoring lab, where they both tutored. The two married in 2013, and their first child was born in 2016. Kory left college behind and applied for a position at NASVI where he was hired in 2017.
Over the years, Kory has worked his way up from valve assembler to shipping, and most recently to valve machinist. Kory says, "I love what I do because I learn new things every day, all the time. And, I get to show other people how to do things."
By day, he operates lathe machines, cleans up old valves and returns them to shiny, new condition. By night, Kory spends time with his family. He's involved in Cub Scouts with his son and plays dolls with his daughter. Every once in a while, Kory and other NASVI guys get together to play Pathfinder, a dice game.