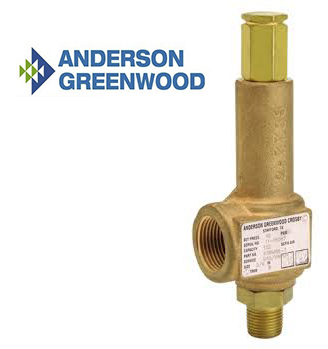 No need to wait weeks for order processing and shipping direct from the factory for Anderson Greenwood's 63B. Why? NASVI has a number of them in stock and ready to ship. For your customers who depend on this utility valve, getting one quickly is definitely a win.
About AG's 63B Safety Valve
Type 63B valves are direct spring-operated safety valves suitable for medium set pressure gas, vapor and liquid or gas thermal relief applications. Specific valve types are available for gas, vapor, liquid; gas or liquid thermal relief, steam, cryogenic and chemically active applications.
The 63B's brass construction offers an economical valve for carbon dioxide, natural gas and general gas or vapor services. Yet, these relief valves use special internals and soft seals to provide optimum accurate performance.
Sizes: 1⁄2" x 1" to 3⁄4" x 1" (DN 15 to 20)
Orifices: 0.077 to 0.150 in2 (0.497 to 0.968 cm2) Connections: NPT
Temperature range: -320°F to + 400°F (-196°C to + 205°C)
Set pressures: 30 to 531 psig (2.07 to 36.6 barg) Code: ASME VIII
About Seal Tightness Performance Specs
All pressure relief valves are checked for seal leakage per procedures outlined in API 527. The following operating pressures will allow for bubble-tight seat sealing performance.
| | |
| --- | --- |
| Set Pressure range: | Operating Pressure range: |
| 100 psig [6.9 barg] and above | 0% to 95% of set |
| Below 100 psig [6.9 barg] | 0% to 90% of set |