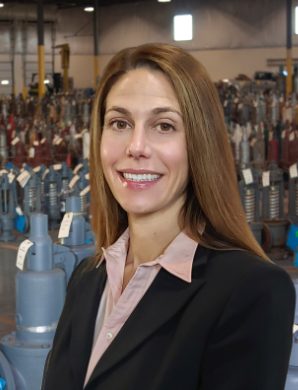 Well, it looks like I didn't completely bore you readers to tears in the last newsletter, so I'm back for round two. As some lucky people who have recently called NASVI discovered, so too is Allen. His "I'm retired" didn't last very long. Really, we have my mother to thank for that. She didn't like him hanging around the house all day in her "space," so she basically kicked him out for a couple of hours each day.
I'm not complaining. Not only is he obviously an amazing asset to have at work, I get to spend more time with my father. If there is one thing I've learned recently, it's that you never know what life has in store and to hold on and cherish the moments you have with your loved ones.
Okay, enough sappiness. The last year has been a crazy and wonderful blur of nonstop go, go, go. I know most of us in this business have been dealing with the same feverish craze of project after project and needing things right away.
The good news is our Kunkle inventory is larger than ever, so we have you covered. Our company's philosophy has always been to reinvest back into the business and not just strip money out. After our people, our next most important asset is our inventory. We have millions of dollars' worth of brand new Kunkle valves in our warehouse, and we customize them to your customers' needs since we are an assembler. We don't just pull a factory-set valve off the shelf and ship it out. We set and test each valve before it leaves our shop. We can even take a few valves in various combinations and build the specific hard-to-find valve for which your customer is desperate. We also have more than a million dollars in factory new, high pressure Consolidated boiler valves that take 30+ months to get from the factory. We are always striving to stock more hard-to-find valves in hope of making it easier for you to help your customers.
Recently, someone asked me to guarantee the six bronze Kunkle steam valves I quoted were factory new. My first reaction was to take immediate offense. Why in the world would I offer a used bronze valve when I have 500 of the new valves in my warehouse? We mostly deal in new valves, making up 80% of our business, so this rhetoric that NASVI only has used valves gets old. I then calm myself down and understand for whatever reason people use our remanufactured valves against us (even though we offer them as an alternative for when time/money is an issue). We always clearly mark on the quote when we are offering a valve that is new surplus or remanufactured. We will never hide that or try to pass it off as anything else.
I just had a customer looking for two API standard 1-1/2×2 all 316 ss-flanged valves and needing them in a week max because the boat could not be in port longer than that. Apparently, no one in the country had these new, (Kunkle does not make an API standard valve or else we would have it) so they came to us hoping for anything we might be able to do for them. Luckily for everyone involved, we had the valves in surplus, could get them cleaned up, set and tested in less than a week. Problem solved!
With the current supply chain issues and factories pushing back their ship dates, our new surplus and remanufactured valves are a great alternative for quicker delivery. I get for certain projects, it's just not an option, but don't get offended when we add it to the quote as an option that has better lead times and is more cost effective. It might just be the reason you win the job.
As always, we sincerely appreciate your business and continue to strive to earn your loyalty and trust.