Our comprehensive valve repair service program is designed to keep safety valves at optimum operating efficiency. If you are ever in need of valve repair, here are seven things you should know about our services.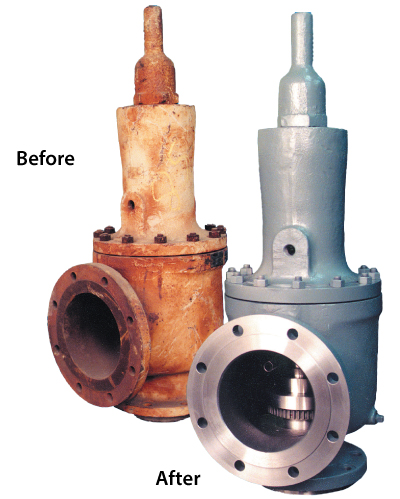 With safety valve rebuilds, upgrades, maintenance and service included, you never have to worry about uptime or it costing a fortune.
NASVI employs factory-trained personnel who are skilled at spotting potential problems with valves and recommending the most effective and economical ways to solve them.
NASVI has the exact specifications for nearly every safety valve ever manufactured, meaning our technicians repair valves to precise specifications.
With six lathes on site, we work quickly to restore tolerances on existing parts. If, by some chance, a part cannot be restored, generally, we can replace it from our extensive in-house inventory.
If an update is needed along with repair, our technicians bring valve designs up to the latest standards using factory-standard parts.
For peace of mind, all repaired valve units are covered by our one-year standard warranty.
Get safety valve replacement parts faster thanks to our substantial inventory of original valve manufacturers' parts, including springs, discs, gaskets, bellows, nozzles, guides and more. Thousands of these parts are on our warehouse shelves ready to ship. No need to worry about factory delays slowing operations down.
Have questions about repairing or servicing valves?
We've got answers.

Call us: (800) 800-8882
Email us: sales@nasvi.com